Link Hanger (Pair)
The Link Hanger is a popular solution for hanging for hanging works of art with older, larger, or rebated frames.
---
Product Description
Strong, simple and secure, the Link Hanger is a very popular solution for hanging larger works of art up to 150 kg in weight and has been designed to accommodate both rebated and flat backed frames. The 'link' provides an immensely strong support between wall and frame and automatically bridges the gap that is so often found on older, heavy artworks with large frames.

The Link Hanger has a 'bronzed' finish that blends quietly with the shadows behind the artwork, and incorporates measures to improve security, allow for adjustment during installation or connect with storage options when not on display.

This fixing also carries the official stamp of approval by the UK Government's Museum & Galleries commission.

Key Features of the Link Hanger:
Suitable for flat-backed and rebated frames
Hang large artworks up to 150 kg
'Invisible' - cannot be seen when mounted
Carries an official stamp of approval from the Museum & Galleries Commission
Each set comprises two link hangers
Product Specification
Type: Artwork Hanging Solution

Material & Finish: Steel with an electroplated 'bronze' finish

Dimensions: 85mm high x 25mm wide. The 'link' measures 75mm from plate to plate.

UK Installation Instructions PDF: Click here to download
Expert Advice
All that you require to install the Link Hanger is screws to suit your particular artwork. We recommend using a 4mm diameter panhead as these provide a clean smooth finish, but if these are not available then countersunk screws will work.

When installing rebated frames we suggest placing the Link Hanger well in from the edge so that it is 'lost' in the shadow behind the artwork.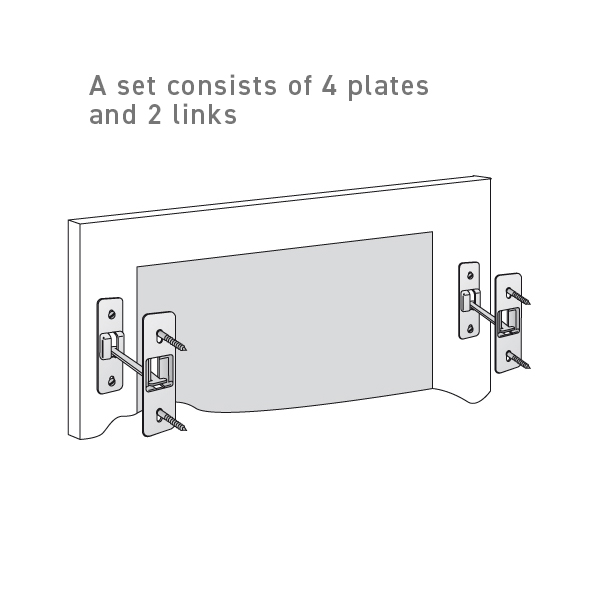 What's Included
Included:
Not included:
Wall Fixings - the screw length needs to suit your artwork
Museum Grade
Museum grade products, designed for all settings. We design and manufacture high quality products in the UK to display, protect and explain artworks as well as to guide and inform visitors. Absolute has built a reputation for innovative, high-specification solutions for museums and galleries around the world, which are available for use in all types of environments, from attractions and hospitality venues to airports, restaurants and everything in between. For more information about how our product solutions could support or enhance your space, please contact us.
Delivery Information
Every effort is made to despatch the same day for orders placed before 13:00, this is subject to warehouse capacity and stock availability. We use UPS courier service; all prices are calculated on weight at the checkout and are delivered by the courier between 8am – 6pm. Please contact us if your delivery country is unavailable for website ordering, this will be shown during checkout. Also note that international orders delivery time does not include customs clearance. Further information about delivery please contact us.